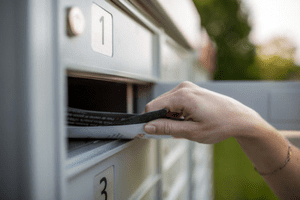 ---
Options For Updating Your Atlanta Mailing Address
Looking for new apartments for rent in Atlanta can be exciting. It's an opportunity to picture what your next year can look like in each different option, but eventually you will have to make a decision. When you do, don't get caught up in planning your décor and forget to update your address. If you do, your mail will continue to arrive at your previous residence and all of your letters, postcards and financial records will be in the hands of a stranger. In fact, this person may access enough information to steal your identity. Because keeping your mailing address updated is so important, the United States Post Office provides you with three different ways to do it depending on what is most convenient.
Visit The Post Office In Person
If you prefer to make the change in the office, find the closest post office location. When you arrive, bring with you two forms of identification and one piece of evidence to prove your residency. These forms may include items such as a driver's license, passport, vehicle registration or insurance, and university ID. You will also need to print and complete a change of address form.
Go To The Online UPS Website
The quickest method you have at your disposal is to do it online. On the USPS website, you can temporarily forward your mail if you are going out of town for more than two weeks or change your registered mailing address. Provide the necessary information for your new Georgia
Tech luxury apartment address. The website will also require your email address and credit card number, which will be charged a one dollar fee to verify your identity.
Mail In Your Updated Address
If you prefer to mail in your address change, first print out a change of address form and fill it out. In your letter, you will also need to include copies of two forms of identification and one proof of residency. Satisfactory proof includes a driver's license, passport, vehicle registration or insurance, university ID or apartment lease.
Inform Those Who Send Mail To Your Atlanta Student Apartment
When you change your permanent address, the post office will forward all of your mail to your new Georgia Tech luxury apartments for a set period of time. During this time, you will be responsible for notifying any individual or company who sends you mail with the updated information or your mail will begin to be sent to your old address again. Take some time and create a thorough list of those who send you mail. It may include family, friends, banks, utility providers, loan companies, credit card companies, newspapers, magazines and the DMV.
Student Housing In Atlanta, GA
The sooner you forward your mail to your luxury apartments near Georgia Tech campus, the sooner you can begin enjoying what your new housing has to offer. At The Standard in Atlanta, you can hone your cooking skills with stainless steel appliances and granite countertops, utilize our study lounges and career to achieve academic excellence, and relax by our rooftop pool.