Moving to Atlanta, GA? — you are not alone. Atlanta is one of the largest metropolitan areas in the United States, and it's still growing. Its lively business center, suburbs, neighborhoods, not to mention the abundance of renowned higher education institutions drawing in large numbers of students, make Atlanta an appealing place to live for many people. However, moving to a new city, especially one as large and diverse as Atlanta, can be intimidating.
Moving to a new place, in general, means starting from scratch. You must learn about the city, where to live, where to eat, and what to do. But this doesn't have to be a burden. Learning about a new city can also be exciting. To help you better navigate the city, here is a rundown of Atlanta's most iconic destinations.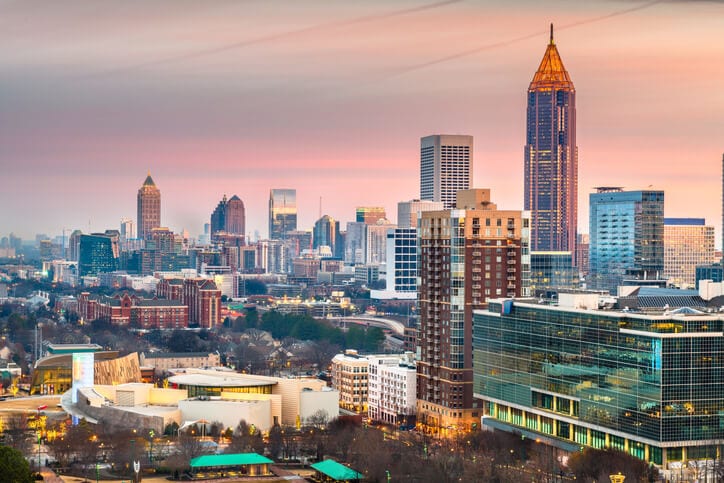 Atlanta's Neighborhoods
Choosing the right place to live is important to ensure that you will be in a comfortable atmosphere that compliments your personality and lifestyle. Atlanta has neighborhoods with enough diversity and their own individual feel to offer the right fit for everyone, but you should narrow down what you're looking for. One of the most talked-about subjects when looking into neighborhoods in Atlanta will be whether they are "inside the perimeter" or "outside the perimeter." This refers to whether the neighborhood is inside or outside the I-285 ring that surrounds the city.
Both GSU and Georgia Tech are located inside the perimeter towards the center of Atlanta. One thing to keep in mind when moving to Atlanta is that although some of the areas and neighborhoods in Atlanta are walkable, the majority of the population relies on personal transportation to get around and odds are you will too. Here are some of the core neighborhoods to live close to campus:
South Downtown: South Downtown is one of the most walkable neighborhoods in Atlanta and is located nearby Georgia State University. If you're looking for apartments near GSU, South Downtown is ideal. It is also home to many city, state, and government institutions. Tourists abound here due to the area's many world-famous attractions. South Downtown features the MARTA public transportation system which is popular among downtown and southern suburb commuters.
Atlantic Station: Atlantic Station resides on the northwestern edge of Midtown, being almost an extension of it but with a much calmer atmosphere. The neighborhood consists of apartments, condominiums, townhouses, offices, and a large retail district.
Midtown: Midtown is known for its high energy and vibrant life rich with restaurants, bars, and nightlife. Despite its skyscrapers and bustling business life, Midtown is still a safe, walkable neighborhood. It is the best neighborhood to find apartments near Georgia Tech. The area is growing quickly, with new apartment complexes popping up every day. Midtown is also home to several annual festivals and concerts.
Buckhead: Buckhead is a major commercial and financial center of Atlanta located north of Midtown and Atlantic Station. The district houses an urban core with suburban neighborhoods surrounding it. Buckhead is a perfect area for upscale shopping, nightlife, and fine dining.
Top Attractions In Atlanta, GA
Atlanta boasts an impressive array of shopping and entertainment options to keep residents entertained every day. Tourists from all over the world travel to visit these must-see sights. As William Pate, president and CEO of the Atlanta Convention & Visitors Bureau, said, "Atlanta is a top destination for entertainment. With more than $650 million worth of new attractions added since 2005, Atlanta educates, entertains and enlightens students from across the globe."
Zoo Atlanta: The Atlanta Zoo features more than 200 species of animals for a must-see experience for any wildlife fanatic.
Centennial Olympic Park: The Centennial Olympic Park offers year-round concerts, festivals, and family activities for a great gathering place.
Six Flags & White Water Atlanta: Home of the Looney Tunes, Six Flags is an amusement park located just 20 minutes west of Atlanta with an abundance of thrill rides. White Water Atlanta is the largest water park in the south. Open daily from June through August, it offers all kinds of aquatic attractions.
Martin Luther King, Jr. National Historic Site: At the Martin Luther King, Jr. National Historic Site, you can visit the activist's birth home, a display of his Nobel Peace Prize, and his gravesite. It is an educational and cultural site like no other.
World of Coca-Cola: At the World of Coca-Cola you can sample 70 different beverages, witness a restored 1880s soda fountain and experience a multi-sensory 4-D theater.
Georgia Aquarium: Georgia Aquarium is the world's largest aquarium, boasting a wide array of marine animals and interactive exhibits.
Atlanta Student Apartments
Atlanta is a great city to live in with much to do and see. As you get to know the city more and more you'll find some of its hidden gems, establish your favorite places, and learn about all the hotspots where students like to go. If you're looking for the best student housing in Atlanta, contact The Standard at Atlanta. We will help you find the right place to call home so that you can start enjoying everything Atlanta has to offer.