Guide For Students Moving To Atlanta, GA
Atlanta is a dynamic city with many opportunities and a great quality of life. The city is also home to multiple options for higher education, drawing in thousands of students every year. With so much culture, livelihood and things to see and experience, it's not hard to see why the city is ever-growing and a highly attractive place to live for students. If you're moving to Atlanta, learn where all the hotspots are and what you can do in the area.
At The Standard, a provider of some of the best apartments in Atlanta, we offer tips for living in Atlanta, GA, so that your move can be as hassle-free and enjoyable as possible.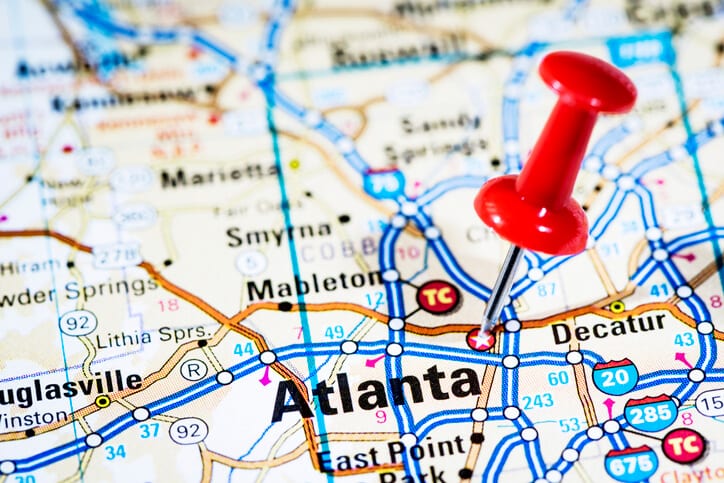 Overview Of The City
The city of Atlanta is made up of several different regions, each with its own unique flair and individual appeal. It is important to know what you want from the area where you'll live and what places it can offer. When it comes to Atlanta, neighborhoods are grouped "inside the perimeter" or "outside the perimeter." The perimeter is the circle that I-285 makes around a portion of the city. Both Georgia Tech and GSU are located inside the perimeter, which should be kept in mind when searching for apartments near Georgia Tech and Georgia State.
Midtown
Midtown is one of the primary spots for GATech housing due to its close proximity to the campus. Students also enjoy living here because the area offers a wide variety of restaurants, bars, and clubs. If your niche is around nightlife, then there is no better place for you as a student than Midtown Atlanta. The area is also home to many businesses and offices, creating an atmosphere with skyscrapers and bustling business life during the day.
Downtown
Downtown is the central business district of Atlanta, GA, and the ideal area for GSU student housing that students can find close to campus. Depending on where you live in the district, commuting to school could be as easy as a 10-minute walk. The area offers multiple housing options including some of the best student luxury apartments in Atlanta, GA. Downtown is also home to many exciting attractions and stellar restaurants.
Atlantic Station
Atlantic Station is located just northwest of Midtown and is known for its relaxed atmosphere while still being at a relatively close distance to the campuses and city hotspots. Some of the best Atlanta, GA, apartments for students who enjoy a more casual life are available here. The area is also a big shopping destination with a mall for big brand name shopping and even a movie theatre.
Advice For Incoming Students
If I live too far from campus to walk, how do I get to class? Unfortunately, Atlanta is so large and spread out that personal transportation is heavily relied upon. If you do not own a form of personal transportation, areas such as Downtown do provide public transportation that runs on multiple routes.
When my family visits me, where should I take them? The Downtown area is one of the best places to take family members who come to visit you. It offers many fine dining restaurants and is also home to many attractions such as the World of Coca-Cola, Centennial Olympic Park and the Georgia Aquarium that are visited by tourists from all around the world and are sure to keep you and your family entertained.
How do I ensure a good relationship with my roommate? Moving in with a new person, especially one whom you might not know, can seem difficult and even scary. While the ideal situation would be for you two to become friends, the least you can do is ensure that there are no altercations. This can be done by communicating early on and both of you explaining any rules or compromises that either of you would like to have set.
How can I lower my utility bill? In order to ensure a lower utility bill, energy-saving precautions have to be put in place. This would include turning off lights and appliances when not in use, taking shorter showers to preserve water, and even setting the thermostat at a fixed temperature so that it doesn't work more than it needs to.
What is the atmosphere like at apartment complexes? Apartment complexes for students tend to be inviting as most of their residents are just like you. Many student complexes will host activities and events, which make it easier to meet new friends and create a tight and enjoyable community.
How can I remain physically active? It is important to stay physically active when in college but sometimes it can be hard due to busy schedules. An easy and fun way to ensure you are getting exercise is to join a sports team or club at your university.
Do I need to get renters' insurance? Renters insurance is not always required but it is highly recommended as it will protect you from having to pay any property damages due to fire, theft or vandalism.
Where are the best places to eat? If you're trying to treat yourself to a fine dinner or are going on a date, hit up one of the many fine restaurants in Downtown Atlanta. For some more affordable, delicious local grub, Midtown is the place to go.
How can I make friends in Atlanta? Making new friends is a big part of moving to a new city. To make the process easier, visit some of the student hotspots, join university events, talk to people who live in your complex and go out to have fun. You are bound to find a group of friends who will last past your college years.
Student Housing In Atlanta, GA
If you're ready to move to the exciting and energetic city of Atlanta, GA, contact The Standard today. We are dedicated to matching you with the best GSU and Georgia Tech student apartments in just the right area to match your lifestyle and needs.